About Our Consumer Packaging Division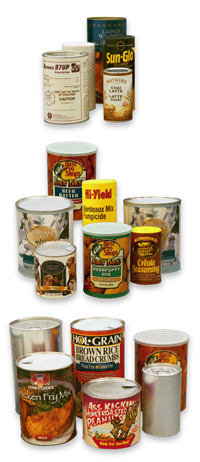 Composite Cans
Proudly Serving the following Industries!
Specialty Food Manufacturers

Drink Mix Makers

Pet Food Manufacturers

Toy Manufacturers
Our Composite Container Division has become one of the very best in the business. We have state of the art manufacturing equipment, and the engineering capabilities to adapt our system to your specific needs.
In addition to in-house engineers, we also have our own machine shop and maintenance departments to provide flexibility, total systems integration and expediency.
Our canisters, lined with a variety of barrier materials, can keep edible products such as peanuts, bread crumbs, spices and snack foods fresh or to prevent leakage of products such as chemicals, lawn and garden insecticides, carpet cleaners and oils. Child-resistant and tamper evident dispenser tops are available for product safety.
With our ability to custom design, you can take your choice of custom-fitted closures, friction-fit tops and bottoms, or ring-pull-top assemblies. Add to that a colorful custom label to accentuate your quality product, and you've got the best of the best, delivered on time, at a price you'll find very competitive.
Check out our capabilities, browse some standard product lines and give us a call.

Our Composite Container Division stands ready to fulfill your needs, so bring us your ideas and let us bring them to life. Contact us to meet your needs.